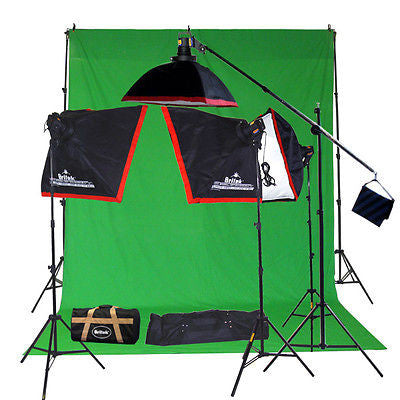 Fluorescent Lighting Kit With Boom Stand Muslin Photographic Lighting 20121
---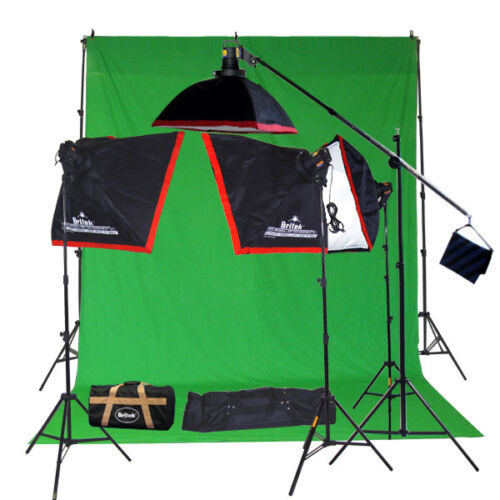 This 3800W fluorescent lighting kit has many major upgrades from the 2300W All-in-One fluorescent lighting kit. The 3800W fluorescent lighting kit uses four key fluorescent light holders, in which two can be placed in front of your shoot subject and the other two can be placed adjacent to the subject so the background would be lit up evenly. There is no need to purchase a fluorescent back light kit separately since this is the four-light kit. The greatest advantage for placing two additional lights adjacent to the subject is that background can be lit up evenly. The evenness in back light projection helps post-editing when the green screen is later replaced using photo editing software. Quality muslins are included, and you will also get to choose the muslin color among green, blue, black, or white. The greatest advantage of this 3800W All-in-One fluorescent lighting kit is its portability compared to other fluorescent lighting kit in its class. The light stands used for PE9060 are considerably lightweight, sturdy, and are very portable. In addition, the configuration of fluorescent light holders and four of 240W fluorescent bulbs are used, which reduce considerably amount of weight you need to carry as if you would carry a PE9080 light bank. The set up is very easy too! You will only have to screw in four 240 bulbs in each PE 9060 fluorescent light bank compared to screw in multiple bulbs in a single fluorescent light bank. After all, the PE9060 fluorescent light holder is the most portable light unit among the rest of the fluorescent light banks we have. The portability of this lighting kit is truly unquestionable. In some cases, depending on the needs of your photo shoot, you may not need all four lights; however, the two light sets will still put out enough light to your subject. The high quality aluminum background support stands are very sturdy and come with carrying cases to meet the needs of transportation.
ID: Britek#9060 Pro 1500 Studio Cool Light Holder
Qty: 4
This New Fluorescent Light Holder is designed for digital photo shooting. It will let you feel free to control the aperature and shutter speed when you are shooting the photo. Also, the Fluorescent light is small but powerful and portable for travel.
ID: Britek#PP170056 Photo High RA Fluorescent Lamp 240W
Qty: 4
This product is made for PE9110 Fluorescent light bank.
ID: Britek#9064 Softbox for Fluorescent Light PE9060
Qty: 4
(32"x32")This product is made for PE9060 Fluorescent Light. The soft box can let you create a soft light and embellish the lighting effect. Besides, it can provide broad, even, well controlled light, too. New designed, it becomes much easier to be set up. Now it is appllied with low price. Quickly to get this and definitely you will see the amazing achievement. For every professional photo shoot, this is the product that you can't do without.
ID: Linco#8308new 8308 Compact Light Stand
Qty: 3
This is a new professional quality 8FT light stand. These heavy duty light stands can hold lighting equipment up to 19.8lbs(9kg). Compact and light weight, weighing 4.4lbs(2kg) each, these 8FT stand will give you years of service. Made of Cold-Worked Carbon with special design locking system and double braced legs with an extra wide footprint for added stability. This stand sets up in seconds, going from 2'9"(83.7cm) when fully folded to 8FT when completely extended. Can be used use with any type of lighting, indoors or out.
Kit Contains:
One Light Stands(Linco#8308New)
Features:
Extended up to 8'
Extra wide footprint for load up to 19.8lbs(9kg)
Smooth and easy raising and lowering
4 sections, 3 risers, moves quickly and smoothly
Closes down to 2'9"(83.7cm)
4.4lbs(2kg) each
Service:


3 Year Warranty.
30 Days No Restocking Fee.
Lowest Price Guarantee.
Product Liability Insurance.
Outstanding Service.

ID: Britek#4098 Studio Boom stand
Qty: 1
Professional Series Light Stands are built to uncompromising standards. It?s excellent for studio and on-location shoots where sheer strength must be combined with portability and fast installation.Steel construction means our stands are strong and long-lasting. A black satin finish makes them the most attractive light stands in the market. Our stands protect your bulb from damage when there is.
ID: Linco#4145-1 Single Crossbar Background Support
Qty: 1
The professional background support system is the lightest, portable, and easy set up professional photo shooting equipment. It is made of steel tube constructed for extra heavy duty use; black enamel finish with rubber tips on the legs to prevent movement. Its light-weight metal is a portable design for both studio, outdoor and all occasions, the background support system is easy to install and uninstall for professional photographer's convenience.
ID: Britek#3178-1 Carrying Bag for 9309(#309)
Qty: 1
Stand Carring Case is made for light Stand only.
ID: Britek#2020M Carrying Bag for lights and accessories
Qty: 2
The 2020 Series Carrying Bag is Design for Halogen Lights. It Provide a suitable size for the Halogen Light kit.
---
Share this Product
---
More from this collection